[AUSTIN, TX - October 1, 2002]
One of Austin's leading designers, of Marc English Design, is featured in the fall issue of a new national magazine for creative professionals, Step Inside Design, which is available now at bookstores, online and in newsstands.
According to Marc English, the opportunity to be featured in the top-shelf publication is very rewarding. "There are over 100,000 designers in the U.S. alone," English said. "It's satisfying to see my work featured among other pros I admire and follow. And for a designer to have their work showcased in this way is a great honor."
Step Inside Design reaches approximately 75,000 subscribers which primarily consist of creative professionals of all backgrounds including design, branding, marketing, advertising, and other related fields.
"The magazine itself is a fantastic resource for people in our field. Whether you're a brand strategist, web designer or in advertising, this particular issue speaks to the importance of developing a sensitive understanding of how design impacts the state of business," English said.
As a result of being featured in the magazine, English was subsequently asked to judge the annual Step Inside Design 100 Show.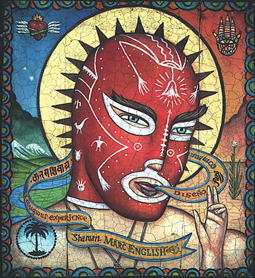 Illustration for Step Inside Design by the inimitable Marc Burckhardt, of Austin, Texas.