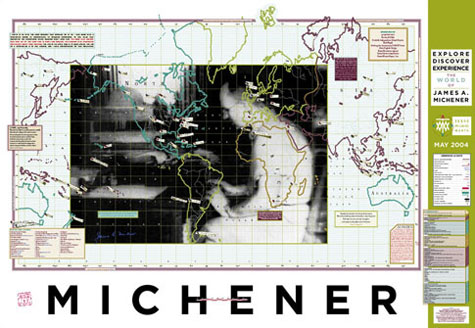 Michener was an orphan who made the world his home. The success of his first novel, Tales of the South Pacific (written while he served there in WWII, and pictured working on it in the poster), and the subsequent musical upon which is was based allowed him the financial base to embark on a career that spanned seven decades.
In keeping with Michener's wordliness, we created a map highlighting all the travels that made it into his books. For each country we actually broke out our ancient Underwood, typed up the names, stuck them with map-pin, and photographed them for inclusion (see detail below). As Michener was all about the details, it only made sense to be as authentic as possible.
Other details include a "mileage scale" at the bottom of the poster that is actually the authors 'born-died' lifeline, and "mileage chart" at right that lists his oeuvre, several of his favorite quotes, and his personal "chop" or japanese stamp at lower left. Finally, the entire poster is scored in sections, that it may be folded down as would an actual map.