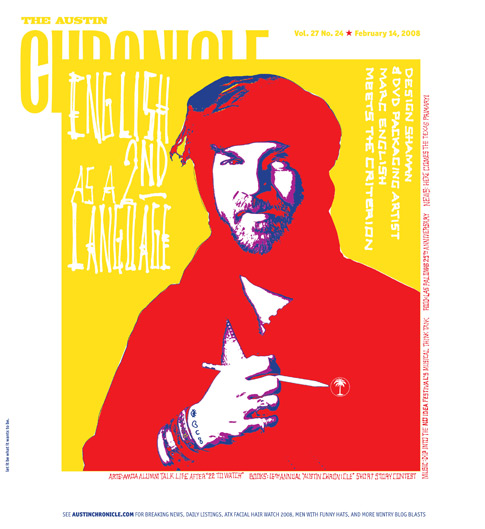 photo by Andrew Yates.
Got a call from the Chronicle on a Friday afternoon: could we do the cover for the next week's issue and have it ready by Monday? And by the way, YOU'RE the cover story.
Oh.
Thought it was gonna be a small article tucked inside.
Already had a posterized version of the photo. Did the writing on a paper towel with a pen. Once, twice. Color palette stolen from the 1967 Richard Avedon image he did of John Lennon. Why not?
Yeah, we're glad to have the good press, but much happier to see Design on the cover. Usually the local paper only covers gig posters, as Austin has a long reputation of being part of the national music scene. so it's nice that folks see other aspects of design. And to top it off, the article's in, of all things, the film section.
Been doing this 20+ years now, and the ONLY way one gets good or great design into the world is with good or great clients. And we've been fortunate of late to have some unbelievably great clients. were it not for them there would not be much of a story. Ok, I lie, there WOULD be a story, but design would not be a factor.
We're also happy that the author, Marc Savlov, who writes with a certain . . . visceral vigor . . . is keen to hype a client (in this case The Criterion Collection) and theirs: directors Monte Hellman and Alex Cox, with whom they have collaborated to bring out the latter's films on dvd. They say you can judge a man by his shoes, but we don't think anyone wants to write about our footwear. So maybe you can judge a man - or a studio - by the company they keep. We're just glad they let us hang around and play.
For the article, go to Art + Commerce: Marc English Design's DIY criteria.