Capturing the raw power of a grassroots hip-hop movement in the heart of Texas, INSIDE THE CIRCLE tells the story of two strikingly talented b-boys, Josh and Omar, former best friends who become rivals when they join competing dance crews. Immersed in the b-boy culture of defiant creativity, Omar rises to international renown while Josh tangles with the Texas criminal justice system. Both of them struggle to keep dance at the center of their lives, and the "B-Boy City" competitive events thrown by visionary street dancer Romeo Navarro serve as emotional milestones in their journey to adulthood. Facing off in intense dance battles that mirror the larger events in their lives, Josh and Omar seekredemption, identity and respect "inside the circle."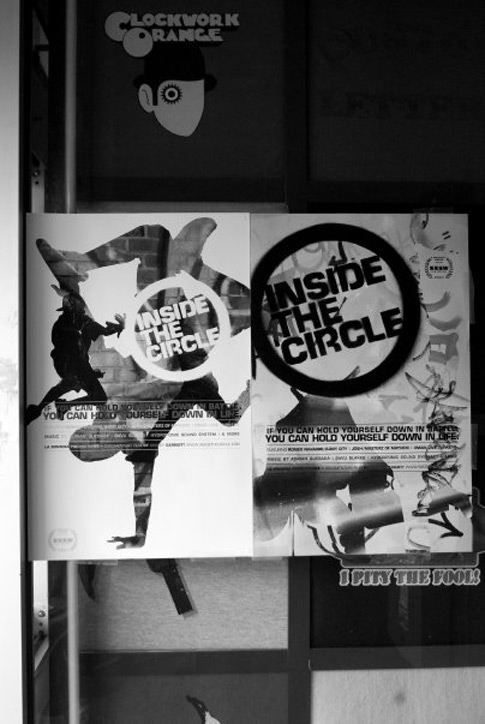 As Romeo aptly observes: "If you can hold yourself down in battle, you can hold yourself down in life."
INSIDE THE CIRCLE is the result of a four-year collaboration between filmmaker Marcy Garriott and some of Texas' most talented b-boys, musicians and other artists. Marcy first took her camera to B-Boy City 8 (Austin, Texas) in 2002, and was hooked after the first battle.
Every b-boy and b-girl has a strong story to tell, and every battle or cypher reveals something about the lives and passions of those who are dancing. Although the film ultimately focused on three of those stories as they unfolded over the next few years, the hope is that they represent something of the universal passion, dedication and struggle of all b-boys and b-girls.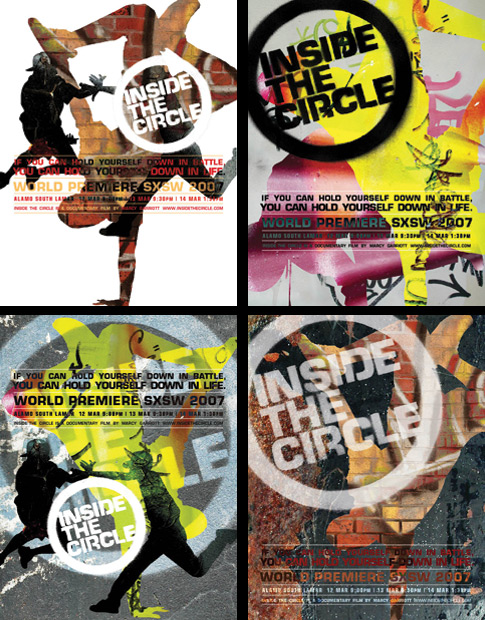 We developed a visual identity that goes beyond the usual logo/color/typeface. Here a series of silouettes taken from archival shots of the guys in the film are combined with any number of photographic images taken from the streets of Austin and beyond. Seen here, the initial (white) poster, and the follow-up (yellow) poster, which came about by popular demand, as people were taking the flyers (seen at bottom) from their posted locations. We LIKE it when people steal....er, liberate....our work.
After developing the creative direction, Marc English Design then worked alongside Glen Dil, of RipTearShred (Austin) to develop the film titles, lower thirds, and credits, as well as with the Robot Agency (Houston) to develop the film's website.