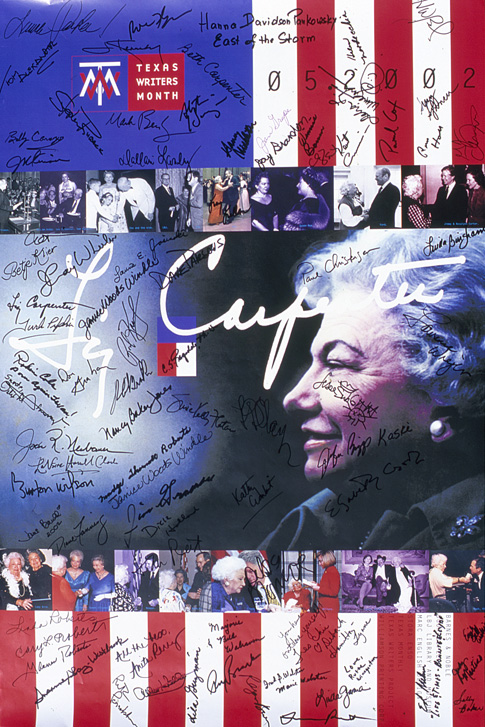 Austinite Liz Carpenter has known every U.S. president since Truman, and is pictured with them on this poster, as are two of England's queens. We pointedly left out the nixon image, held our noses while placing the reagan photo. Note that while she sits beside author/musician/would-be-politician Kinky Friedman, george w. kneels before Ms. Carpenter. Author of several books after serving as lady Bird Johnson's press secretary, she helped in drafting the Equal Rights Amendment, which was naturally shot down by the good ol' boys in Washington, D.C.
Marc was lucky enough to have the honor of having Liz Carpenter as his date one year at the Texas Film Hall of Fame. She called over an old friend (Clinton comes to town at her request) and said "Dan, I'd like you to meet Marc English. Marc, Dan Rather." Of course the face was already familiar. What this exchange highlights is not celebrity, so much as the nature of Austin, Texas being a small town, where folks of all stripes cross paths with barely an effort. Of course the fact that Liz knows everyone in the world helps, too.
This poster is covered in signaures from the Texas literary community, gathered during the annual May kick-off event.