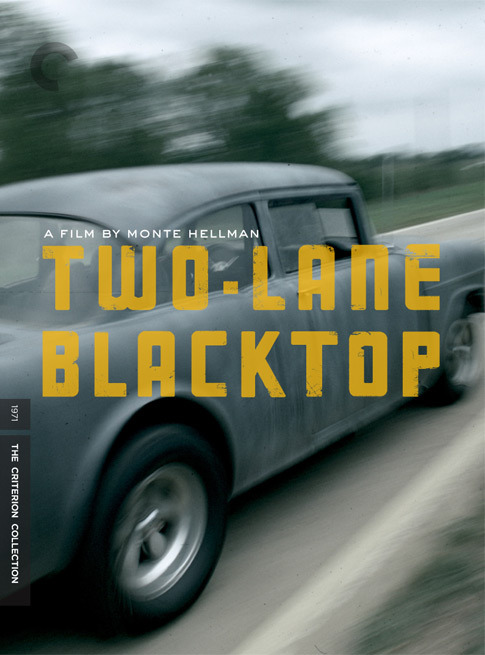 "Classy, sophisticated, elegant, gorgeous"
Monte Hellman, director
Hey, if Monte digs it, then we're happy.
---------------------------
"Criterion's version may be the most attractive package they've ever put out. It's the shit. I would be in awe of it even if it held a movie I didn't like. It's got a beautiful design."
Hi Marc,
I'd like to echo the above sentiments from a blogger. I couldn't be more pleased with the way the package turned out. Everything about it is a delight to the eye. You managed to use BOTH my favorite cover designs, one on the box, the other on the disc holder fold-out. And I love the split photo of the gas station as you open the fold-out. And everything is so clean and simple.
Anyway, thanks very much for your integral contribution to the success of the DVD.
All the best,
Monte Hellman
---------------------------
"The Criterion Collection Two-Lane Blacktop two-disc set is an absolutely beautiful thing to buy, hold, unwrap and feel cool about owning. It's got the two DVDs with the remastered feature on one disc and several "looking back" video shorts by director Monte Hellman, plus Rudy Wurlitzer's original script and an essay booklet. It's a first-class package all the way."
---------------------------
"Two-Lane Blacktop" is a movie that I love because of the first time I saw it and because of the way it makes me feel, which is a completely internal situation on my own part. I actually like it when others don't like "Two-Lane" because that's one less person I have to share it with. And I don't begrudge them their opinion, either, because this just isn't a movie for everyone. But it is for me.
---------------------------
"Alone amidst all of Criterion's top-shelf rediscoveries, 1971's Blacktop is the legendary, fuel-injected car ride to nowhere. It may be the single-most American road film ever made, part Bresson silence, with just the gravel thrum and sidewall whisper of the post-Graffiti, pre-Apocalypse U.S. of A. radiating off of it like something out of Kerouac's dark, endgame dreamings, and part Route 66(6) downward spiral, a pitch-perfect portrait of the mid-'Nam quest and failure never for high-octane meaning and poetry of motion in the midst of torque-ified terror. It's an anxious, nervy ride, now, finally, complete with a Dolby 5.1, sternum-rattling sound mix that seems to find its proverbial vanishing point. Like the sunbaked Santa Fe macadam and shoulderless hellway that, in time, came to be the new American reality - strip malls and strip bars and little else to gauge your bearings by - Two-Lane Blacktop for once and for all looks and feels like the Great American Epic it always was, right down to Marc English's spare, dreamy design.
The packing is English's coup de grace, a perfectionist, minimalist design job that tweaks the borderline existentialism of the film right into the packaging. But don't take our word for it: Hellman was so impressed by the Criterion/English treatment his film received that he promptly went out and bought a massive, 50-inch television to screen it on.
"As of last week, it's gone into a fifth pressing," says Hellman, by phone from L.A., noting that not only is that unusual for a cult film whose only previous DVD release (from Anchor Bay) is long out of print but much of that is due in no small part to English's design, which smartly mimics the spare, clean lines of Hellman's rocketing road-to-nowhere odyssey.

"His work just exemplifies Criterion's style in that it catches your eye immediately," enthuses Hellman. "It's so different from any other company's DVD product that it's like it's from a totally other world. From a director's standpoint, I don't think that anyone imagines that a film they make is going to be alive and well after almost 40 years, and certainly when it was made, nobody envisioned that anybody would be looking at it with fresh eyes almost 40 years later. When we were doing the color correction on it, I realized, wow, this is a whole 'nother world. I'm just really overwhelmed by Marc's work on the design. I think it's one of the most gorgeous packaging jobs I've ever seen. I just like everything about it."

Marc Savlov | Austin Chronicle, 14 Feb 2008
--------------------------
Fortunately, we could relate to this American Existentialist road movie, having covered our share of backroads, dirt roads, and every kind of road in the U.S. Heck, we've even covered many of the same roads in the film, riding hot and heavy, day and night watching shadows grow and fade, across California, Arizona, New Mexico and through the small towns of Oklahoma and those east of the Mississippi. Which means not only have we lived the film to a degree, but can readily draw from the small-town typography and lettering in places where the words "typography and lettering" are met with a stare.
So when it comes to source material, we've been in the thick of it and have the "liberated" signage and motel artifacts to prove it. As well as a license plate or two, liberated much as in the film.
Experential design draws on experience. Genuine experience. Not store-bought, pre-faded, faux weathered. The real stuff. You know it when you see it. Hellman's film is that, the real stuff, not a false note.
Warren Oates as GTO.
James Taylor as The Driver.
Dennis Wilson as The Mechanic.
Laurie Bird as The Hitchhiker.
A '56 Chevy and '70 Goat make their way across the USA, for purposes best left to the filmmaker, but carving out that last piece of American Pie, as this 1970 film serves as the Last Film of the 1960s.