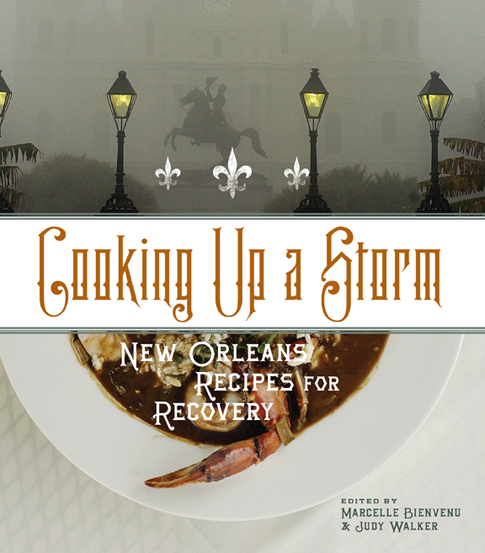 It's always fun to combine our loves of culture and travel and books, and this was another opportunity, to highlight our neighbors to the east. Cooking up a storm is what we love to do, and it is always about using the right ingredients, in the right amounts, to create an absolutely authentic flavor, mon cher.
These recipes are family favorites from the New Orleans area, complied by the New Orleans Times-Picayune. Budget was limited, but we brought in one of Louisana's treasures, illustrator Francis X Pavy of Lafayette, to add our version of lagniappe, with his funky and chunky and down-home woodcarvings. You can find Francis' glorious color work on his site.

If when looking at the small spreads, you ask yourself why our Poultry section does not have Pavy's chicken big and bold, we've included a scale version of our fleur-de-lis wallpaper that incorporates said chicken - and okra, and everything else in this kitchen - celebrating both illustration and food. And if wondering why the photos look a wee bit blurry, well that's because the final images are extra-large-dot duotones, which helps balance out a collection of photos from disparate sources, a simple trick to make the book cohesive.

One of the great things we love about projects that involve such flavorful cultures is learning more about typography and then finding the exact letterforms evocative of time and place. Here we've paid a respectful nod to New Orleans' rich and eclectic past, as well as added a few modern flourishes just to keep things nice and neat. All that said, somewhere in the back of our collective heads, we were wondering about the best of low-budget, two-color cookbooks from the 1950s-1970s, albeit with more refined typographic direction.