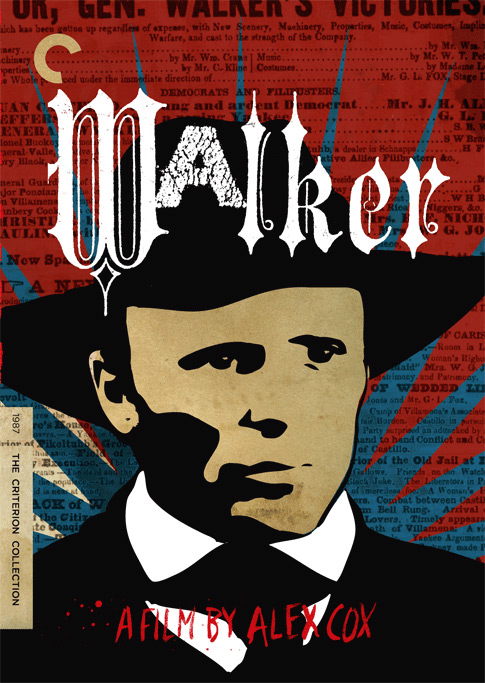 "Regardless of what you may think of that film's surreal, Peckinpah-meets-Gilliam take on the Walker mythos, one thing is already inarguable: From a design standpoint, Criterion's Walker will suck your eyes right out of your head and its retail price right out of your pocket. It's worth it, every penny. And for that, you can thank/blame Austin-based graphic designer Marc English of Marc English Design.
To be sure, fans of Cox, Harris, and a post-Clash Strummer have just cause for imminent revelry, but what's really - and instantly - remarkable here is English's cunning, audacious graphic design. Composed of a pop-arty pic of Harris portraiture atop a field of dusky crimson, with archival, period text visible beneath and jagged blue, kinetic outbursts radiating from behind, Criterion's Walker should be filed under "O" for "ordnance." It looks less like a DVD package and more like a dark promise of revolution, a lesson in chaos, and, above all, a real-life, based-on-a-true-story story. It's English's version of the Clash's Sandinista! pared down to its rebellious visual quick: Viva Nicaragua! Viva la Revolucion!"
Marc Salov | Austin Chronicle, 14 Feb 2008
---------------
A hallucinatory biopic that breaks all cinematic conventions, Walker, from British director Alex Cox (Repo Man, Sid & Nancy), tells the story of nineteenth-century American adventurer William Walker (Ed Harris), who abandoned a series of careers in law, politics, journalism, and medicine to become a soldier of fortune, and for several years dictator of Nicaragua. Made with mad abandon and political acuity - and the support of the Sandinista army and government during the Contra war - the film uses this true tale as a satirical attack on American ultrapatriotism and a freewheeling condemnation of "manifest destiny." Featuring a powerful score by Joe Strummer and a performance of intense, repressed rage by Harris, Walker remains one of Cox's most daring works.
For this project we merged two distinct genres: mid-19th Century, antebellum archival publication design (lifted directly from the Walker files in Tennessee) and a healthy dose of mid-1980s Sandanista agitprop, doing in design what Cox has achieved in film. Criterion's head honcho says this job is "a design festival" and their art director concurs with "I seriously love it. You guys kicked some ass on this one." We dig it too.