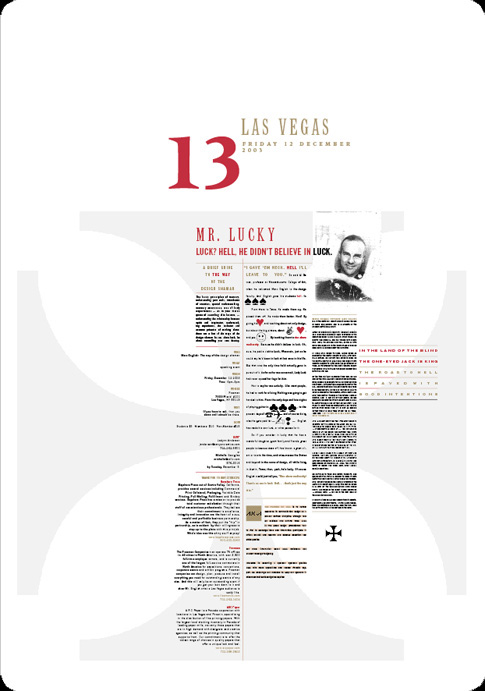 In the land of the blind, the one-eyed Jack is King
The road to hell is paved with good intentions
& many more bon mots for your amusement & edification
"Mr. Lucky" [For years I hoped to design a poster based on the metallic KIMLAN soy sauce packaging. Hit paydirt in Vegas.]
"I gave 'em heck. Hell I'll leave to you." So said Al Gowan, professor at Massachusetts College of Art, when he welcomed Marc English to the design faculty. And English gave his students hell. In [spades].
From there to Texas. He made them cry. He pissed them off. He made them better. How? By giving his [heart], and teaching about not only design, but about the big picture, about [peace], [love], and yes, [happiness]. By teaching them to rise above mediocrity. Because he didn't believe in luck. Oh, sure, he paid a visit to Luck, Wisconsin, just so he could say he'd been in luck at last once in his life. But that was the only time he'd actually gone in pursuit of it. As far as he was concerned, Lady Luck had never spread her legs for him.
Not to say he was unlucky. Like most people, he had to work for a living. Nothing was going to get handed to him. From the early days and late nights of playing guitar in [clubs], to the present days of [telephone], [airplane] and of course doing what he gets paid for - [hand with pen , exclamation point] - English has made his own luck, or what passes for it.
So if you consider it lucky that he has a wonderful daughter, great family and friends, great people to bounce ideas off, has known a great client or two in his time, and criss-crosses the States and beyond in the name of design, all while living in Austin, Texas, then, yeah, he's lucky. Of course English would just tell you, "Rise above mediocrity! There's no use is luck. Hell. . . that's just the way it is."