[June, 2007. Austin, Texas] About 150 miles southwest of Austin, Texas, as the crow flies, is a small town named Utopia. A gas station, post office, and a few stores make up the main street. That and the Lost Maples Cafe, which makes a damn fine pie.
The town is not named for the pies, though one could rightfully believe that.
The Rio Sabinal cuts a slow, rambling swath through the town, a ribbon of clear bluegreen thickly bordered with cypress trees as wide as cars, older than the old Spanish roads that faithfully crept up from Mexico in the 1700s, older than Comanche trails that were cut even further back.
Marc English first passed through that town in 1995, and it left more than a small mark on him, as he had needed a place to bed down, having left the Mexican border hours earlier, having left a marriage at the same time. Utopia looked as good as it could get.
Around that same time, Appleton Coated Papers, of Kimberly, Wisconsin came out with their first line of premium sheets. They named it Utopia. It wasn't long before English became aware of the paper.
Cut to ten years later, and the fall of 2005 and English - a graphic designer - is asked to sit on the Advisory Council of Appleton Coated. Small world, no?
For more than a decade, English has been on the road doing lectures, not so much about his work, but about what makes his work, about what makes him work. It was at the AIGA national conference in Boston (English's hometown) that he met Ferko Goldinger, VP of Marketing for Appleton. If English spoke of anything, he spoke of influences, of having borrowed from his own past, of recycling ideas, reusing them for better purpose. Hell, at least 30% of his work must have been recycled in one form or another, whether stealing from his own past, or of those who came before, not unlike how Texans "borrowed" from the Spanish who "borrowed" from the Comanche.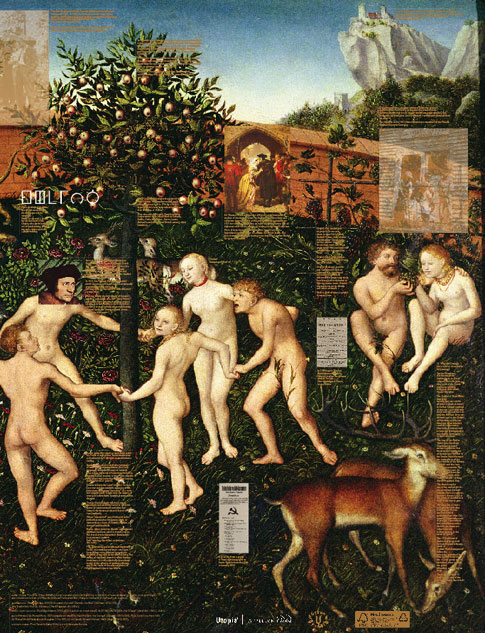 What you see here is a poster. The first job ever printed on Appleton Coated's Utopia Two Extra Green Dull 80 pound cover, an FSC-approved sheet containing a minimum 30% post-consumer recovered fibre. Which means at least 30% recycled.
And the poster? Anything but dull, It hypes English's talk at the recent HOW Design Conference in Atlanta, regarding his Way of the Design Shaman: The Ecstatic Experience in the Creative Process. The art is 100% recycled, relying on a vision of The Golden Age, by German painter Cranach the Elder, circa 1530, portraying a party of a dozen, frolicking au natural in a Utopian setting, along a body of water not unlike the Rio Sabinal, in harmony with nature. Other art includes an iconic portrait of English, circa 2002, by German-American painter, Sir Marc Burckhardt.
The fine print on the B-side refers to Sir Thomas More - Englishman, statesman, philosopher, writer, martyr - who penned the novel Utopia in 1515. Other fine points note the first Utopian society founded in Georgia (host to this year's HOW conference), and the ecstatic notions of dance and drink, among other erudite and informative tidbits of knowledge. Ah, the glories of detail. And speaking of detail, should one align copies of the poster, front to back, the poster doubles in size, growing from 19" x 25" to 38" x 25".
What we find here is a way to grow ideas. Whether those of Appleton Coated finding means to create a paper that proves not only sustainable in every sense of the word, and is also a great sheet on which to print, but also a vehicle to shine a light on the past and the ideals of Sir Thomas More's Utopia, as well as promote the shameless thievery and hyperbole of designer Marc English, of Austin, Texas, who can be found at marcenglishdesign.com.
Ideas, ideals, Utopia, all in plain English.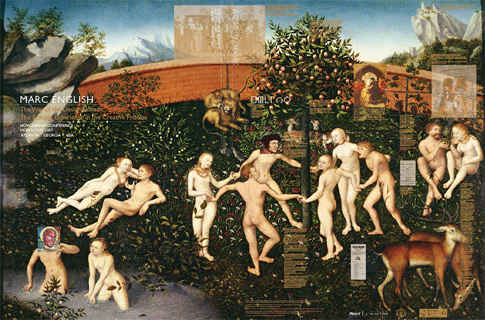 Four color process, plus match metallic copper.