Marc English quoting Frank Sinatra
THE WAY OF THE DESIGN SHAMAN
by Joel Nakamura
[Step Inside Design, September | October 2002]
In this reality, his moniker is Marc English, but for those who believe in the theory of quantum parallel universes, English might simultaneously and interdimensionally co-exist as Marc Japanese, Marc Anasazi, or Marc Moroccan. A traveling man, a blues man, a shaman, English spreads the doctrine through his lecture, "The Way of the Design Shaman." Granted, he may not have the ritual scars of a recent sun dance, or the facial tattoos of a Maori warrior, but English elevates those who attend his lectures to a higher level of design consciousness. "The concept of shamanism and design is really more about connections than spirituality. To some, design is a job. To me it is a calling," he says." It's creating something that communicates in a timeless fashion. Ritual is the enactment of a myth. By participating in the ritual, you participate in the myth. So in design, when it really works, it demands your participation. The attachment we feel toward products and services is an example of modern ritual."
When not directly involved in design, English prefers to be on the road or down the trail, especially off the beaten path. "I should have been an archeologist," chuckles English. While writing Designing Identity: Graphic Design as a Business Strategy, English recalls pondering the petroglyphs at Newspaper Rock, Utah. That these primitive illustrations of clans, myth, and wildlife can speak to us today is a testament to the power of visual communication. As a contemporary society we post signs and we call our more refined glyphs logos, all passing on relevant information and stories. Like a shaman of the past, tracking is an important tool in English's arsenal. Rather than concern himself with the tracks made by animals, English studies and documents the marks made by people. In his world travels, he's also discovered a funny irony: In graffiti art the word "love" always seem to be spelled in English.
"Design as a language of communication is a component that has been part of every successful enterprise. Through the ages, languages both verbal and visual have been used to communicate messages from maker to the marketplace. While messages are as varied as the makers and markets, clear content-driven communication knows no equal," English explains.
At a very early age he was impressed by graphic art. "I remember getting the Beatles Revolver album from my mother," he recalls. "What stood out was that it was the first Beatles cover with art on it. It was black and white and didn't include the name of the band. The designer, Klaus Voorman, assumed everyone should just know who it was. I later noticed similarities between the cover and the quality of line drawings by 19th century illustrator Aubrey Beardsley. "The next connection I perceived was that Beardsley was influenced by the master Japanese printmakers of the 1800s, who have also influenced me. I think it started me on this connective influence, cross-pollination, collective unconscious thing that transcends time and place. It's still part of my process today," he says.

1
Originally from Boston, English studied design at the Massachusetts College of Art, but as his friend, it's hard to picture English anywhere else but in his home of Austin, Texas. Sometimes the place makes the person. Living in Texas has added to the Marc English mystique and personal brand. He's been known to show up at client meetings wearing black leather chaps, shiny fringed western shirts, and a handmade Texas Hatter's cowboy hat. His Harley is tied up at the curb.
"I need to focus certain clients on the concept of identity, so sometimes I use myself as an example," English admits. "Those who can effectively communicate their identity in a superior fashion reap the benefits." "
Longtime friend D.J. Stout, a partner at Pentagram in Austin, says, "Marc is very theatrical in the way he dresses. I go to lunch with him a lot and he's one of the few people in Austin who actually wears a cowboy hat. Austin is not like the rest of Texas that way, so you can always pick out the guy who is originally from Boston," he laughs.
In addition to cowboy attire, Stout says English has a motorcycle gang look, complete with leather pants and a black T-shirt with the sleeves cut oFf, and a mafioso look in which he wears a 1920s-style mobster hat. He's also a theme dresser. For example, Stout was doing a lecture at the local AIGA chapter recently and English showed up dressed like Stout, "or what he says I dress like - black jeans, black Tshirt, and black Converse All Stars," he laughs.
English's design studio is simple and efficient. His desk is just a door (knob still attached) laid across two sawhorses. No pretense here. What one does find is an abundance of personality, and personal ephemera from his travels. On his walls, English has a map of the United States covered in pins that show where he has visited. One color pin represents his lectures and where he has judged design competitions, another color pin shows places he has traveled with his daughter Rebecka, and the third color pin shows where he has traveled solo.
As part of his journeys - both spiritual and literal - English documents his observations in journals. It's a ritual he started as a child on his first trip to Texas. When he was ten years old his father took him to the World's Fair in San Antonio; it was then he fell in love with the Alamo and cowboys and the Western lifestyle. Not wanting to forget anything, he recorded his experiences in a journal. A few years back, he and Stout took an eight-day backpacking trip through the Olympic Mountains. Stout recalls, "Every time we stopped and took a break, Marc would write in his journal, draw little sketches and maps, and add things he collected, like leaves."
A visit to Casa Ingles reminds me what my own home would probably look like if I had remained a bachelor. There is a preponderance of tribal artifacts, musical instruments, primitive weapons, a double-gun rig right out of The Outlaw Josie Wales, and swinging saloon-style doors. It's not often that one encounters a kindred spirit, like a brother from another planet.
2
On stage, English is in his element. His lectures are performances, complete with costumes and special effects that include Mexican wrestling masks, tribal drumming, mood lighting, and unsuspecting audience participation. Stout advises, "If you're ever scheduled to speak at the same event as Marc, ask to go first, because he's a hard act to follow. He's a real showman."
At the 1999 National AIGA Conference in Las Vegas, a mystery Elvis impersonator performed in front of 3,500 designers. The Elvis was, in fact, English, who later said, "I couldn't pass up the opportunity to perform live in Vegas." His flair for theater at a young age prompted his high school classmates to vote him "Most Dramatic," and he recently played the lead in a production of an obscure Sam Shepard play at an Austin theater.
"Each time I build on what I have learned in the way of performing, to try and reach somewhere between Earth and sky, to draw the audience in," English explains. His passion and spirit do him well when he's trying to convince clients to go in a different design direction. "He's a real designer's designer - he's fearless. If he has an idea for a design, he'll push it. A lot of designers won't do that for fear of losing the job," Stout says. " "Marc has an affective quality of getting people outside of design excited about it, and he does a lot of good for graphic design by sticking to his guns and speaking to the fact that design isn't just decoration," he adds.
Client Rob Robbins, respects and admires the way English operates. "He has an intuitive sense of how long to cook an idea and when to take it out of the pan. A lot of work is so desperate for attention that it's overcooked," he says. "A lot of people are defined by what they read and are exposed to. Marc is a freak in that his office looks more like a child's playroom than that of a principal of a successful design firm. I don't know if he surrounds himself with interesting stuff because of who he is or if a part of Marc is derived from this hyper-creative environment? Probably both, but who cares, it works."

3
English has been an active member of AIGA, where he has been chapter president in both Boston and
Austin and has served on the national board. He's well known and highly regarded for the pro bono projects he does for worthwhile causes and his community. "When I look at my books, it's kind of sad because I did more pro bono work than commissioned work last year," English relates. But he has no regrets - giving back is one of his mantras. According to The Design Shaman, the recipe for success is excellence (always doing one's best), gratitude (thanking those who've helped along the way), giving back (it's good for karma), and most important, love (it transforms people to another level by passion and heart). "I always joke that Marc does so much free work in Austin we ought to get the City Council to vote on a resolution where we just pay Marc out of our tax money as the Ambassador of Design," Stout says. "He does the whole community a service." "
In 1999, English, then president of the AIGA Austin Chapter, conceived the first Design Ranch. "This is the ultimate gathering of the tribe," he says. The workshops are intimate and hands-on, and it may be the only event of its kind where guests share three meals a day and have constant access to speakers. English adds color and atmosphere to the event by plucking his guitar or scooting around the dance floor to a Texas two-step. And of course, he takes center stage as master of ceremonies. Some of us have renamed the ranch "The Marc English Experience," though he disdainfully scoffs at the notion. To practice his own doctrine of evoking a spiritual experience, English has adopted a more traditional way of spreading his word by becoming an internet-ordained minister. Now he can dictate a connection between the sacred and the profane, to address everything from erection to resurrection. "All those years of wearing black have paid off," laughs English.

------------------------------
Catalog for Texas Fine Arts Association; poster to promote a lecture English was giving for the Washington, D.C. AIGA chapter; AIGA Charlotte lecture poster;
One of many of English's person journals full of ephemera he collects in his travels, including stamps allied at local post offices - a practice the USPS abandoned after Sept. 11, 2001; package design for a local health beverage comapny; promotional materials for SevenBar Aviation, a charpter aircraft company that found Marc Englishd Design in the phonebook.
Annual report for VTel Corporation; poster promoting English's lecture in the Bible Belt, capitalizing on the "sacred/profane" theme he speaks about; Texas Writers Project poster featuring Elmer Kelton who was voted best western writer of all time.
Business car for a local screenwriter. "It's anti-Hollywood," says English of the deisgn and the client's services; catalog for an import furniture manufacturer from India; logo for Lake Hills Church. English gave them a literal interpretation of the name.
Marc English Design created all the identity materials for the 2001 Design Ranch, sponsored by AIGA Austin. English chose a "sacred/profane" theme for the materials so he incorporated milagros (mementos left on altars or sacred sites to make a promise for a deity, based on Mexican Catholicism) and mascaras (masks worn by Mexican wrestlers).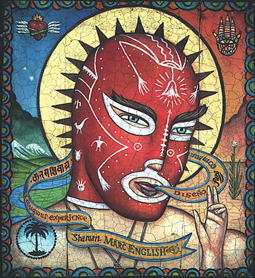 Illustration for Step Inside Design by the inimitable Marc Burckhardt, of Austin, Texas.